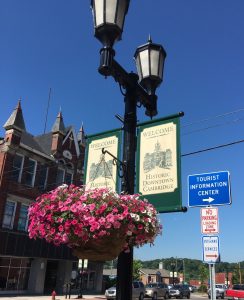 The 2018 flower baskets are out and Cambridge Main Street would like to thank the following people who sponsored a basket(s).  
Judy Davis
Donald Brown Law Offices in honor of Dean and Janet Brown
Leonard's Live Auctions in honor of Richard and Linda Hollins
Marilyn Atchison in honor of: Wilmer and Viola Atchison, William Adtchison, June Bennet, Peggy Freeman, Patricia DeVore
Raymond Chorey in honor of Charmaine Chorey
Jackson and Lori Marlin in honor of Alberta Carpenter
Ray and Pauline Goffos
Amy Bowlin
Kennedy's Bakery
Orme's Hardware in honor  of Richard McCoy
V2 Architects
People's Bank
Tim and Doree Evancho in honor of Mabel Sparks
Jack Taylor in honor of Kyle, Taylor, Trent and Kory
Julia Swan in honor of Silva Krichbaum
Dean and Tina Nicolozakes
Teresa Dankovic
W.B. Green Company
John Abbott in honor of John and Nancy Abbott
Phyllis Bowlin
Penny Parnell in honor of Karen Boyer
Bennett Title Agency
Thorn-Black Funeral Home
Ann Lawrence in honor of Neal and Beverly Tostenson and Grace Rowlins, Pastor and Irma Tostenson
Tribbie, Plummer, Church and Laplante in honor of Tom and Marge Tribbie
John Shafer in memory of Donna Jean Shafer
Larry and Carol Caldwell
Cambridge Rotary
Colleen Siadik in honor of Beta Warne and Alta Abricht
We would also like to send a HUGE thank you to Mr. Don Bishop who graciously volunteers his time to water the baskets during the summer months.