Cambridge Main Street has created an award that recognize businesses or individuals who exemplify the Cambridge Main Street mission of revitalizing downtown Cambridge through economic restructuring and historic preservation.  The Volunteer of the Year Award is presented annually at the Annual Breakfast Meeting.
Happy Retirement Debbie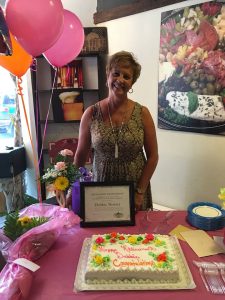 Thank you Debbie Mosser for 32 years in downtown Cambridge. Happy retirement…it was well earned. Congratulations to Sally Ritz as the new owner of The Towne House! We are blessed to have this wonderful store in our downtown.